EURUSD Forecast
EURUSD chart analysis 
The price has dropped strongly after the first two days where we can see two bearish candles with large wicks. Those wicks representing the price had a strong support at the $1.13094 level.
On Wednesday the price managed to break below previous two day wicks which was a start of a bearish move. That move was confirmed on the next day.
On Thursday the price formed a large bearish candle that closed the day below $1.11871 support level. The support level did not have any reaction on the price which tells us bearish pressure was too strong. This level lost its significance and the price is now below the downtrend channel.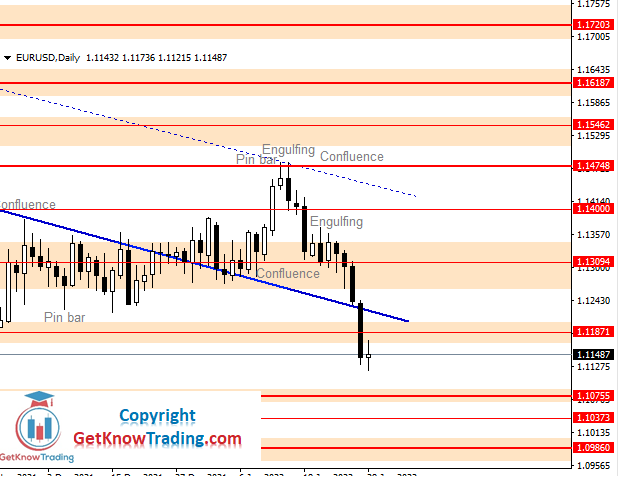 What we can expect in the following days is the price returning back to resistance level at $1.11871 which is now a confluence of resistance where horizontal support line and downtrend channel trend line are crossing.
There the price will find resistance where more sellers will enter into the market and push the price further down.
Next support level is at $1.10755 where we could expect the price to stop. From there the price has second support below at $1.09860 and first resistance is at $1.11871.
Obviously the price is in the bearish mode and we can expect it will move further down. The price needs to close above $1.11871 just to return into range where bulls will have some kind of a chance to reverse the market sentiment.
To completely change the market sentiment the price needs to close above $1.14000 which is above the previous price range.
Bears are now controlling the market where EUR strength is weak and strong support $1.10755 is the first step to recover.
Trading Analysis Bonus
I am sharing trading analysis each week.
It is free and if you want to receive e-mail notification, sign up.
The Forex market is not easily predictable and we need to prepare ourselves for a bullish or bearish scenario. Risk management is crucial in Forex trading so play safe and set stop loss.
Check other trading tutorials: