Previous EURUSD forecast talked about price making a breakout to the upside.
The price on Monday has made a first step to make a breakout reaching first resistance level $1.01368 and breaking above with a wick. The price returned back down, but only to support level $1.01368.
This was a small signal the price will reach a higher level because the small breakout from the previous week's small range.
On Tuesday the price continued to move upside and closed the day above. This was the breakout first step. It was a confirmation of a bullish pressure stronger than selling pressure.
Second step was on Wednesday where the price returned back down and closed the day above $1.01368. This was a confirmation of the breakout where the price did not return down below support level.
On Thursday we had a bullish engulfing candle that was a final confirmation of the breakout ready to move to higher levels.
Friday was a day when the traders got out from their trades locking the profits they made on the bullish move to the upside. It is a normal reaction before the weekend. But, the price returned back up which represents a strong demand zone where the bulls are pushing the price higher.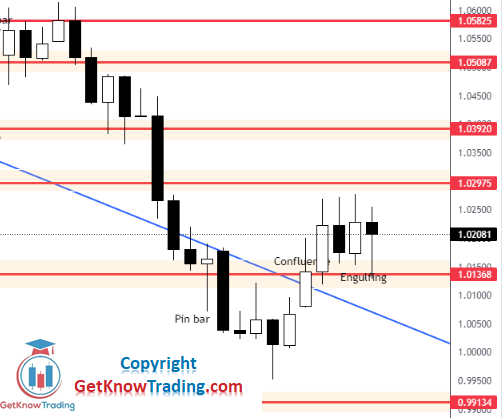 The next week's target is to break above $1.02975 resistance level. It is a level that the price must break to reach the next target and that is $1.03600. That price level is a price where the bearish candles had some problems getting to lower levels. It is a small resistance before strong one at $1.03920.
Because the price is right in the middle between support and resistance levels it is good to wait until the price reaches a lower level close to $1.01368. From that price the entry would have a much better Risk:Reward ratio.
First resistance at $1.02975 should be no problem because the price has formed several bullish signals that are pointing to higher levels. But, as always, be careful because the price can make all kinds of moves for some reason and mostly because of news.
Weekly and monthly time frames show us that the price has more room to move to higher levels which confirms daily analysis and levels mentioned.
Trading Analysis Bonus
I am sharing trading analysis each week.
It is free and if you want to receive e-mail notification, sign up.