Choosing good Forex trading broker is not an easy task and it can take time until you find good one. To whom you will trust and give your heavily earned money needs extensive research.
You want your invested money secured so you do not waste any additional time watching is something gonna happen to your account.
I have pointed several points you should watch when choosing Forex broker.
Forex broker regulation
Broker Accepted Clients
Trading Pair Spread
Forex Broker Commissions and Fees
Currency Trading Pair
Forex Broker Deposit Conditions
Leverage Option
Margin Requirements
Trading Platform
Trader Support
Educational and Informational Resources
Forex broker type
Protect yourself from scam Forex broker
Forex Broker
When looking for good Forex broker you need to have in mind that some of them are scam and they want to trick you. Good Forex broker does not want to trick you while they live from your trading through commission or spread.
Forex brokers who want to have clients and earn through spread or commission will put some effort to get you as their client. They will give you deposit bonus or something similar.
You will see that Forex broker will give more their time to help you in trading. Why are they doing this. It is because they want that you stay as much is possible in trading. When you lose all your money you will not trade anymore which means they will not earn money.
If you are break even, at least, or earning money they are happy because you are not taking money from their pockets but you bring them money with each trade you make.
If you are long term trader, Forex broker will not be happy with that. Guess why. If you do not open a trade for long time they do not earn spread or commission. If you are day trader or scalper who stay break even or even earn money then you are the best client they can get. And if you are day trader, scalper with large amount of money then you are VIP trader to them.
If you invest large sum of money you will get attention from their managers and maybe they give you special treatment.
1. Forex Broker Regulation
Reputable Forex broker will have certificate from regulatory agency at least in the country where he is located. Some have additional certification in other countries which gives them more credibility.
There is Forex brokers without any regulation who work on their own discretion and they pose a risk to your invested, heavily earned money. This means if you open account with them they can, if they want, close your account without notice and all your funds are gone.
Some traders have said that their Forex broker have open a trade without their knowledge and lose all money on the account. After that trader could not reach them to get back his invested money.
Regulatory agency watch out that Forex broker business practice is honest and according the law. Agencies pay attention to ensure that your funds are secured and you are protected from fraudulent practice. You can read in their papers that some of your invested money, up to some amount, is secured by regulatory agency if Forex broker go bankrupt.
High level of security gives you confidence that your invested money is in secure hands. You do not want to constantly think will Forex broker close my account and take all my invested money. You want to trade and nothing else.
To get at least some good protection from scam Forex broker look for those that are regulated by agencies.
Location of Broker
Location of the regulatory agency and Forex broker have benefit specially if the regulation is in top countries like UK. UK because London is major center for foreign exchange service in the world.
Reason, why London, is experience in Forex trading which goes far back in the history. Experienced market center have more people in this business and Forex broker in London has many experienced staff for supporting new customers.
Additionally to above said, London have one of the strictest regulatory agencies around, the Financial Conduct Authority (FCA) which gives more credibility to UK based Forex brokers.
Pay attention if possible that Forex broker is located in UK because there is brokers who just open office in UK and have headquarter in another country. Sometimes they do this just to earn your trust but do not include all benefits which you could have with UK Forex broker.
In the US look for Forex broker that is a member of the National Futures Association, NFA – National Futures Association and subject to CFTC regulations – U. S. Commodity Futures Trading Commission. If Forex broker is serious he have NFA number stated on the website mostly on "About" page.
For you all in Australia you need to look for Forex broker who is licensed with ASIC entity (Australian Securities and Investments Commission). Even better if they have subsidiary in Australia which makes them more serious. They have webpage on which you can check which companies you should not deal with. Here is a link.
All above said will give you more confidence to open account with Forex broker and that your invested funds will be save.
2. Broker Accepted Clients
When looking which Forex broker to use you need to look does he accept you as a client. Most Forex brokers does not accept US client because they did not get licence from regulatory bodies in US.
Reason is that US regulatory body demands many steps to achieve necessary level for approval and there is minimum capital requirements which is quite high, around 20 millions U.S. dollars.
3. Trading Pair Spread
Forex spread is difference between bid and ask price. It is calculated in pips and one example you can see on the picture below. With red line ASK price is shown and with black line BID ask is shown.
For you it is better to have small spread and for Forex broker is better to have higher spread. When you open a trade Forex broker earn money from spread and you are in minus for spread. This is for retail brokers who acts as market maker.
Spread is important point when you day trade. If you trade on smaller time frames it means that you often open a trade. Then spread is crucial for you. If spread is to high you will need more time and correct market momentum to earn money because spread makes you open a trade with minus on your trade. On larger time frames spread will have smaller impact because you will hunt for larger market movements and you will not close your trade immediately. This means you will have time your trade goes in correct direction and move you from spread minus on your trade.
You should check how large spread is on trading pairs you will trade the most so you do not lose to much money when opening a trade. Forex broker give smaller spread on major trading pairs which have higher liquidity and higher spread on exotic trading pairs.
Maybe spread is not crucial thing to think about at first, but trust me that it is not point to throw away when checking which one is good Forex broker.
4. Forex Broker Commissions and Fees
You will experience fees whenever you will deposit money to your trading account or withdraw from it. Watch out that fee is small or there is no fee when doing these operations so you do not lose to much of your investment or earning.
Some Forex brokers charge fee or commission on each transaction, like ECN Forex broker. This also does not go in your favor so check this when looking for suitable Forex broker.
Whenever you open a trade you will pay transaction cost through spread or commission. Pay attention on this and check what are the spreads on the pair you think you will trade when opening account with them.
If spread or commission is small you will have more money to trade and your margin will allow you to control more money on the market.
5. Currency Trading Pair
Forex broker should offer you a wide range of Forex currency pairs. You want to have more options to choose and earn more profit and try different strategies.
Almost all Forex brokers offer major trading pairs which includes world currencies as U.S. dollar, Euro, British pound and Japanese Yen.
Check for precious metal to trade like Gold and Silver in addition to oil. If you trade AUD or CAD then you will see that those currencies rates depend on commodity price fluctuations.
6. Forex Broker Deposit Conditions
Forex broker can have minimum deposit amount when opening real account. This minimum sometimes can be a problem for you if you plan to invest small amount of money.
Look for Forex broker who does not have minimum deposit policy or at least look for those who demands at least 50 or 100 U.S. dollar or Euro. Small amount will be enough for you to start trading and gain experience through time.
From my experience just to start trading 50 or 100 U.S. dollars will be enough but it will not be enough to be satisfied with profits you earn. There is examples where someone with small investment, 100 $, earn high income, 1000 $, from trading but they are small percentage of traders.
Deposit requirements can vary on account type Forex broker offers so check which account they have in their portfolio. Does the account have minimum deposit condition, is there demo account for new traders.
Just imagine when you want to deposit money on your trading account and then Forex broker start to demand different conditions, debit card, credit card, Id, passport, bill not older then 3 or 6 months with your name and so on.
Same conditions can be requested on withdrawal. Or even harder conditions like you need to wait several days to withdraw your money, wait until the month ends and so on.
Forex broker should give you easy access to your trading account when you want to deposit and withdraw money.
7. Leverage Option
How large position you can control with invested money in your account is defined by leverage. High leverage Forex broker offers leverages high as 1:500. Leverage 1:500 means that you can control $50 000 with just $100 allocated from your invested portfolio.
As you can see leverage in Forex trading can be quite tempting option while you can have huge gains with correct open trade. If your trade change direction and moves in wrong way leverage can be like stone around you neck in a water.
8. Margin Requirements
Margin in Forex is amount of money on your account that Forex broker requires from you to open a position. It is expressed in percentages and can be from 0.25%, 0.5%, 1% or 2%. This depends on Forex broker.
Margin is used by broker to open your position on the interbank market. Forex broker does not use only your margin but also margins from others traders. With all margin he have makes one large margin with which open trades on Interbank market.
If margin is high, let say 2%, leverage you can have is 1:50. So, it is important for you to seek Forex broker who demands smaller margin to allow you higher leverage.
9. Trading Platform
Forex trading platform can be very important item in choosing good Forex broker dealer. This depends on your requirements because some traders needs platform just to open a trade. They do not need special indicators or oscillators to make a trade.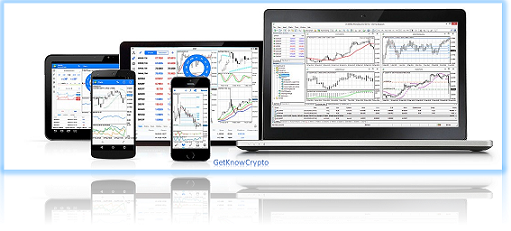 Some traders have trading techniques and strategies which involves combination of indicators and oscillators and maybe special written software.
Maybe you want to trade over tablet, mobile phone or your internet browser. These are requirements you need to check before you open an account with a Forex broker. You want to be mobile and able to open a trade whenever and wherever you want.
Automated trading is option that traders use when they have strategy that works and it is possible to automate it. With automation they do not need to be on the trading platform but they let the program do the job when necessary. Check with your Forex broker do they have support on the trading platform for this.
At the end when choosing Forex broker check that platform have
good visual appearance
fast buttons for buy, sell or close all open trades
tools for technical and fundamental analysis
order entry types
automated trading
backtesting
a demo account
different trading platforms(web based, mobile, desktop)
10. Trader Support
Support is important when choosing Forex broker for trading on the Forex market. As any serious company your Forex broker should have customer support.
Pay attention on support when choosing good Forex broker. No one thinks about this when everything is fine and running smoothly. When problem appears then you are sorry you did not check this earlier. I hope you will not need any support which means everything is working smoothly.
In case of need Forex broker should have good customer support to solve your problems as soon is possible and that is immediately. A lot of Forex broker have perfect customer service when you wanna open an account but after that you become unworthy customer.
This behavior is characteristic of sales person who do not care about their customer and after sales is a nightmare.
Imagine situation when you want deposit to or withdraw your money from account. Would you like to have support that helps you immediately over phone or chat or you wold like to have support that answer over e-mail in next few days?
Support is crucial thing because you invest your heavily earned money into their hands. You want that problem is solved as soon it appears. Good support is the solution for you.
Here is a list what Forex broker should have under support:
Mailing service – with e-mail you can reach support and get detail answer which you will have for future problems. It is good to get reply in 24h from trader support
Live chat – it is good to have person on live chat so you can get feedback immediately when you face a problem. Watch that live chat is not AI bot because at the end, probably, you will end sending an e-mail because bot could not help you
Telephone chat – one of the best choices to have. Specially if broker have enough staff to answer all call without waiting in line several minutes
Personal manager – this is the best option to have. You can reach him and get the best service they have. Manager will focus only on you to help you solve your problem as soon is possible
If broker is a good Forex broker they will help you in any case during time as their client.
11. Educational and Informational Resources
If you are new trader and you want to learn about trading you should check does Forex broker offers webinars on their website. Do they have educational material for traders, inexperienced or experienced.
Is there news feed on the trading platform. It can be helpful when news will have impact on the trading pair and important news always have impact on the currency. This is important for you as a trader so you are informed as much is possible to make better trades and to make more profit from trading.
12. Forex Broker Types
When you start looking for a Forex broker it will be hard for you even you already have experience with some Forex brokers.
To find a good Forex broker takes time and knowledge, where are hidden things you need to watch out, what is necessary for you as a trader and so on.
Let start with this. What are the main types of Forex broker. We have:
dealing desks(DD)
no dealing desks(NDD)
Dealing Desk
Market maker Forex broker is called dealing desk broker. They earn money through spread on currency pairs and they provide liquidity for you on the market.
Market makers take your trade and find suitable opposite trade to make a transaction. If there is no opposite trader then they act as trader and take other side of the trade. This means they fill up all orders they accept through trading platform.
Market makers also set the price for their traders on trading platform. You would think that this is not ok and they could manipulate with price of the currency pair but this is not the case. The are fighting with other Forex brokers and set their price close or same as competition. They also want you to keep as their client.
A process of the market makers goes like this. When you open a trade they take your order and match it with another trade. If you open buy order they are looking for another client with sell order to match your demand.
Your are not entering into Interbank market but your Forex broker do it for you over liquidity provider. That provider is company, large bank center, that is always ready to process buy or sell order. If there is no one to match your order then Forex broker comes in and take opposite side of the trade.
When Forex broker takes opposite side of the trade in case of news events he takes a risk of wrong trade. If trade goes in your favor, broker will lose his money. This is a risk they take because they have allocated some money for these situations.
Why would Forex broker take opposite side of the trade if he knows that he could lose?
If you have encounter Forex broker who say that he promise to give you same spread always and in case of news then you can understand following. Market maker get liquidity from bank which in case of news can increase spread. Increase in spread gives broker 2 choices.
One is to increase spread to you so he do not lose money on spread increase from bank or second choice is to accept higher spread and higher costs which leaves you on the same spread. Those who accept second choice are Forex brokers who accept loss on the spread which have incorporated in their risk management.
They are better brokers because they will not give you slippage or re quote on your trade in case when high volatility happens.
What is No Dealing Desk Forex Broker
No dealing desk Forex broker does not accept your order in a way as dealing desk. They connect two orders that match together on the Interbank market. They charge small commission for this type of trading.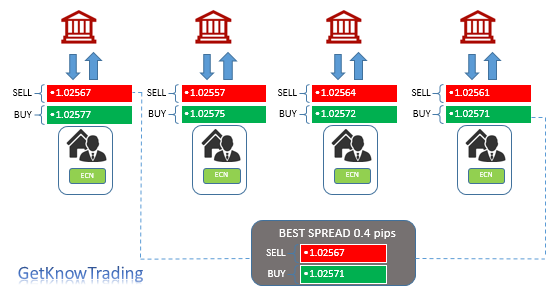 Type of another commission they charge is called mark-up which can be 1 pip. So on the price they get on the market they increase/decrease bid/ask price by that 1 pip and take profit.
NDD STP Forex Broker
STP broker is one type of NDD broker which takes your order and between several liquidity provider he take the best combination of the bid/ask price.
If the bid/ask is 1.2000/1.2001 they add their mark-up by one pip and price on your platform as 1.1999/1.2002. At the end you get 3 pip spread. In this mark-up it is located their earning.
What is characteristic about STP broker is that they have variable spreads. Some of them have fixed spread but mostly it is variable spread.
NDD ECN Forex Broker
ECN broker is the broker who gives you access directly to other ECN participants. This means your trade is directly on the Interbank market where you trade with best bid and ask offered prices.
ECN broker gives advantage to see depth of the market where buy and sell orders of another market participants are. ECN broker usually get commission instead fixed mark-up.
DD vs NDD Forex Broker
To decide which is better it is not easy task. It depends on your preferences how you trade, how do you want your trade is executed.
You should think do you want to pay wider spread on your trade or some commission. To give you a little overview how to decide on the spread or commission read further.
If you are day trader you will look for Forex broker with smaller spread because you will open more trades during day and spread can eat your profit or make it harder for you when trading.
If you are long term trader then wider spread does not affect your trading because 1 or 2 pip in spread is not something to worry about.
13. Protect Yourself From Scam Forex Broker
After you open trading account with a Forex broker you should protect yourself in way that is possible. Any kind of step you take to protect yourself will help you later on if something happens.
Compare Price Feeds
On your trading platform you will open trade, read news feed and so on. If your Forex broker is not good broker they could change price on the trading platform in a wrong way or give you news that is not correct.
To avoid this you should always open another web site with Forex news and currency pair prices just to see what is status on another site. This way you are verifying that information you see on your broker trading platform are genuine and your are not played.
Record Transactions
Sometimes can come time when you need to prove your statements against your Forex broker. This also happens on Forex market but you can prepare yourself.
Every transaction you take you should save as a screenshot which is real picture what happened. If you see something odd take a screenshot. You never know when this will be useful. Screenshot of the transaction can come in handy when you want to see what you have traded in past. It will be some kind of journal.
Good Trading Habits
This point is one of crucial ones. Until you develop good trading strategy you will not be profitable. Good trading strategy comes with experience. With experience you develop skills and habits that helps you reaching high goals in trading on Forex market.
As there is bad habit like smoking there are good ones like trading by written strategy. You should be the trader with good habits, disciplined trader who knows money management, resilient to bad emotions.
With good and proper trading habits you will be prepared for what ever happens in Forex market. Is it bad Forex broker or bad market fluctuations you will be ready to confront them.
Conclusion
If Forex broker have all information above said and they offer something more it means they pay attention to their customers. This is well appreciated for new traders and for old traders.
Check as much as you can before deciding to go into endeavor with Forex broker  that will bring more gain to your invested money.
I have wrote step by step guide for you so you can easily open demo trader account and start practicing with broker I am using.