If you have read the previous Forex trading guide where I have shown you what is Forex then you know that currencies are exchanged on the Forex.
Many participants are exchanging currencies and trading currencies.
But do you know what Forex currency exchange is, what is currency pair, which currency pair is good to pick if you are a beginner in Forex trading?
Major, Minor and Cross Forex Currency Pairs
Major currency pair is the pair that consists of USD currency. There are other currency pairs on the Forex market that do not have USD included, but they have other big currencies.
Those currency pairs are called minor currency pairs or cross currency pairs. One of those is the EUR/GBP currency pair or EUR/AUD currency pair.
And the third combination is exotic currency pairs which do not include big currencies as a base and quote currency in the currency pair.
For example one of the exotic currency pairs is EUR/MXN, Mexican Peso, or EUR/PLN which is Eur against Polish Zloty.
Here is an article for you about Major currency pairs where you can find more informations about them. You will learn what is base and quote currency and how the currency pair price is defined.
Forex Currency Pairs Exchange
To explain more in detail about currency pairs you need to read more about Forex Currency Exchange.
You will learn that currency exchange is a place where currencies are exchanged. That is the place, bank or exchange office, that gives you certain currency in exchange for another one.
If you are traveling from the US to Europe you will need to exchange US dollars to Euro. That way you will be able to pay the costs in Europe.
For exchanging one currency to another you will pay some fee. That is the commission bak or exchange office takes from you when exchanging. It is their profit for making an exchange for you.
How the commission is defined and how to read quotes you see on the dashboard in the exchange office you can read in the article about Forex Currency Exchange.
Forex Currency Pairs Rates
Visiting an exchange office can be stressful because of exchange rates you see on the display or on the dashboard.
Currency exchange rates are the numbers that tell you how much one currency you can get when exchanging for another.
You will currency pair with the exchange rate next to it. That number tells you how much one currency is worth of the second one.
In the case of EUR/USD currency pairs you have one price next to it. It can be:
EUR/USD = 1.2134
This is the exchange rate of EUR/USD currency pairs where you can see how much 1 Euro is worth the U.S. dollar.
To give you more details with examples I suggest you read the article about Forex Currency Exchange Rates.
The Best Forex Currency Pairs
Not all currency pairs are good to trade. And if you are a beginner in Forex trading then it will be hard to pick which currency pair is good to trade.
There are certain Forex trading basics you need to know when selecting the currency pair for trading. One of the most important things is to have a good spread which means low cost for trading.
Second thing is volatility which means the currency pair must be tradeable. Tradeable means other traders are trading that pair.
Earlier I have said you have major currency pairs. The best is to use major currency pairs because they are mostly traded on the Forex market.
Here is a list of all of them and a link to them so you can read more about them and find out why they are the best currency pairs to trade.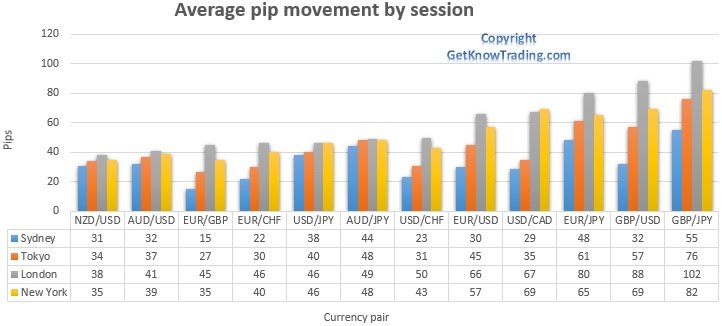 How to Choose Forex Currency Pairs
There are certain steps on how to pick currency pairs for trading. And each step required skills so you end up with the best currency pair.
Step one: find all major currency pairs
Step two: choose a currency pair that is traded when you are available
Step three: choose a currency pair with moderate volatility
Step four: choose low cost currency pair
Step five: check does the pair respects support and resistance level
Step six: check does the pair respects trend lines
When you know all these steps you will pick the best ones for you.
To help you with all the steps I have made and an article that will explain you details.
You will examples how to go through each step so it is much easier to understand.
Check this article where I show you steps how to choose Forex Currency Pairs in Forex.
Forex Currency Pair Strength
When making an analysis on a certain currency pair you can check the currency strength to determine the direction of the pair.
For example you can check dollar strength to see what is the strength against compared to other currencies.
You can use a currency strength meter to see the current market strength of each currency.
When you know the strength of the currency you can pick the strongest and weakest and trade one against another.
If the currency is strong then you can buy that currency and pick the weakest currency based on the position of the quoted currency.
For example if the USD currency is the strongest and CAD is the weakest then you can buy USD/CAD currency pair.
If you want to see examples of how that looks using a currency strength meter check this article where I will show you how to measure dollar strength.
Forex Currency Pairs
Here is the list of all articles related to Forex Currency Pairs
1. All About Currency Pairs