MT4 vs MT5 difference is in the design and the features you can use where MT5 has new design and more features, but MT4 has all features you need for trading.
MT4 has bigger community with Expert Advisors and Indicators and it is used more than MT5 because of simplicity and reliability.
MT4 has proven as a stable and reliable trading platform enough for daily trading, but MT5 has introduced more functionalities that can help avoid obstacles in trading.
Whichever Forex trading platform Metatrader you use, you will not make a mistake.
But, MT4 is my first choice in trading and I would always recommend MT4 for beginners because of its simplicity and reliability.
Read more: Open MT4 Demo Account Without Broker
What is the Difference Between MT4 vs MT5
This whole article will show you where the differences are between MT4 and MT5 so you will know if you should use MT4 or MT5 in trading.
Read more: How to Use Metatrader 4
You will see how MT4 is different than MT5 in:
visual design
features they have
in trading on the various markets
programming language
orders types
You as a beginner in trading can choose both trading platforms because they are super friendly, and at the end as a beginner you need only basic functionalities and for that both Metatrader platforms offer the same.
This article will have a table with differences and then below the table you can find more details about those differences. That way you can visually see the difference between MT4 vs MT5.
Forex, Metals, Energies, Stocks, Indices, Crypto CFD
Forex, Metals, Energies, Stocks, Indices, Features, Crypto, Bonds and Options market
Allowed but without attachments
Fund transfer between accounts
Single thread strategy tester
Multi thread strategy tester, real ticks strategy tester and multi-currency strategy tester
Time and sales exchange data
Fill or kill, return, immediate or cancel
Partial Order Filling Policies
Partial order filling policy
Balance, credit, bonus, commission agent, correction, charge and interest
What is Major Difference Between MT4 and MT5
Major difference between MT4 and MT5 is the:
visual design
appearance
strategy tester and
calendar
programming language
These five things I would say that make the major difference between MT4 and MT5. All other differences you see between MT4 and MT5 are less important and do not bring any advantage or disadvantage.
In the following sections of this article you will see more details about these five major differences and other ones there are.
MT4 vs MT5 Trend
And at the start here is a comparison of which Metrader platform is mostly searched over the Internet.
MT4 leads against MT5 which means MT4 is the more desired platform for trading. It was and still is, but MT5 is following with slight difference.
MT4 vs MT5 Object List
Here is a difference between the MT4 and MT5 objects list you can use on the chart. The MT4 has 31 objects and the MT5 has 44 objects.
The difference is in the:
Lines
Elliott
Arrows

MT5 has:

Buy Sign
Sell sign and
Arrow object

Graphical

MT5 has

Label
Button
Chart
Bitmap
Bitmap label
Edit
Event
Rectangle Label
When you count the above differences you can see that MT5 has 13 more objects on the list. So, it is a significant difference, but in trading that difference probably does not count.
Time Frame in MT4 vs MT5
MT4 offers you a simple time frame window from 1 minute to weekly time frame. It has 9 time frames you can use, but MT5 has more of them.
Read more: Download MT4 TimeFrame Shortcut Indicator
To be precise MT5 has 21 different time frames you can use on the chart which is 12 time frames more than MT4.
MT5 has divided the time frame from 1 minute to 10 minutes in 1 minute step.
Then from 10 minutes to 30 minutes in 5 steps:
10 Minutes
12 Minutes
15 Minutes
20 Minutes
30 Minutes
And hour time frame is divided into 7 hourly time frames:
1 Hour
2 Hours
3 Hours
4 Hours
6 Hours
8 Hours
12 Hours
So, MT5 in this case gives you much more options than MT4 which can be useful. But, MT4 has one option which you can use to get different time frames. read the following article and set the desired time frame on the chart in the MT4.
Read more: How to Change Time Frame in MT4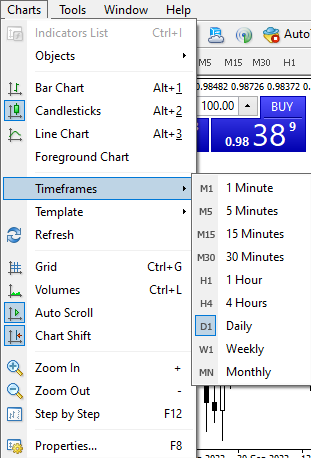 Here is how it looks in MT5 platform.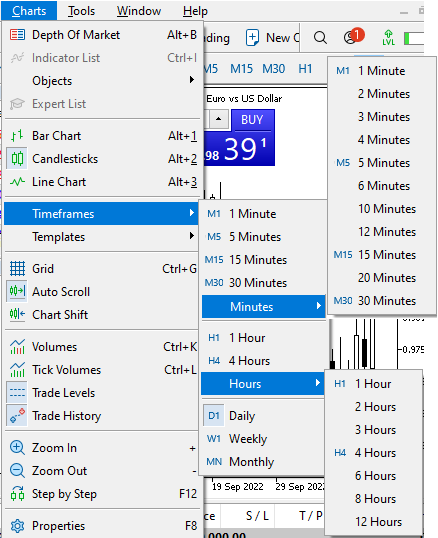 Symbols in MT4 vs MT5
When you check symbols inside MT4 or MT5 you will see a certain number of them. That number depends on the broker you are using.
So, there is a number of 1024 inside the table at the beginning for the MT4. The MT5 is unlimited. That means the MT4 has a limit of 1024 symbols and MT5 does not have a limit.
But, if you are gonna use a broker in trading on the Forex market, usually the broker has from 50 – 200 symbols to offer you for trading.
The number of symbols really does not make any difference between MT4 or MT5. Both Metatrader platforms are good regarding the symbols.
Economic Calendar in MT4 and MT5
MT4 does not support an economic calendar inside platformw which is really a bad thing because the calendar is a useful tool.
If you are trading and there are news released today it is good to know which news and when they will happen. That way you can prepare and be notified when you can expect market volatility.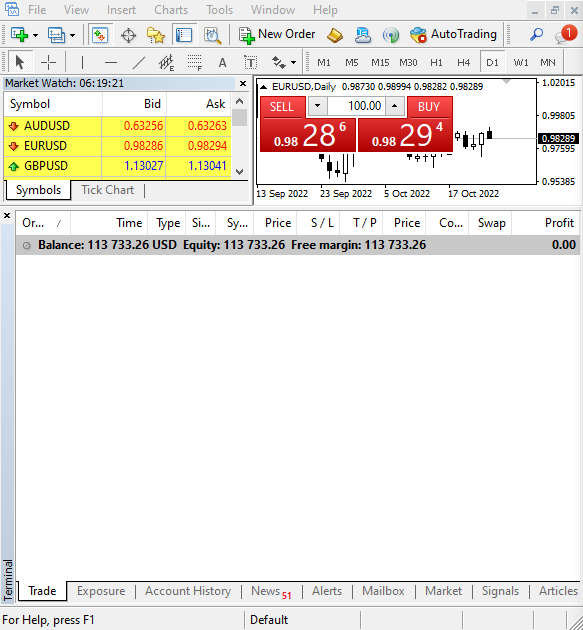 While in MT5 you have an economic calendar where the access is in the Toolbox window. It is next to the Mailbox tab under the "Calendar" menu.
Image shows you how it looks and when you check it you will see it is very useful. You can see which day it is currently and which currency is affected by the news. There are also expectations of the results so you can at least expect what could happen with the results. Will they be more or less than the previously published results?
MT4 vs MT5 Mailbox
There is a difference between MT4 and MT5 Mailbox and the difference is that MT5 has more options inside the mail you want to send.
When you want to open an option to create new email inside MT4 or MT5 you need to position yourself in the Mailbox tab.
For the MT4 you need to go to the "Terminal" window and click the right mouse button anywhere in the Mailbox window. Then select "Create" and a new window will open.
Inside that window you can select to whom you want to send a message. You can select between servers and the users of the platforms. You can not send emails outside of the MetaTrader system, but you can send emails to the administrators of the trading server.
When you open a window for a new email you can see that there is an option to select "Subject" of an email and to whom you want to send. And free space below where you can type your message.
Inside MT5 you can access the Mail window in the same way as in MT4. Go to the "Mailbox" tab inside the "Toolbox" window and click the right mouse button anywhere inside the "Mailbox" tab.
Click "Create" and a new window will appear where you can create new mail.
The rules are the same as in MT4 where you can send email only between server and trading platform.
But, in MT5 you have many more options. You can edit your message text, you can insert images and you can send attachments.
Zip File Compression
When you add the attachment to the MT5 that file is zipped automatically. Compared to the MT4 where it is not possible to attach files in the mailbox, MT5 has an advantage over MT4.
MT4 vs MT5 Indicators
There is a high difference between MT4 and MT5 indicators listed in the trading platform. The table at the start of this article shows 50 indicators on the MT4 and 92 on the MT5.
It is a large difference, but in the matter of usefulness between MT4 and mT5 indicators there are no large differences.
Indicators can help you in trading, but you can trade without indicators. And MT4 has 50 indicators which is quite enough for trading. So, MT5 is not a must have Metatrader platform for trading just because it has 92 indicators.
Below you can see which indicators MT4 and MT5 have. I have divided them into sections so you can distinguish which type of indicators are there and how they are separated inside Metatrader.
Image shows you all the indicators between MT4 and MT5. On the left side it is the MT4 list and on the right side is the MT5 list.
Trend Indicators
These MT4 and MT5 indicators show you what trend is currently on the market. You can use these indicators to determine if the trend is downtrend or uptrend.
MT5 has 13 trend indicators and MT4 has 7 trend indicators.
Average Directional Movement Index
Average Directional Movement Indey Wilder
Double Exponential Moving Average
Fractal Adaptive Moving Average
Triple Exponential Moving Average
Variable Index Dynamic Average
Oscillator Indicators
Oscillator is a tool that oscillates as the price changes. And when the oscillators make a pattern on the chart you can use that pattern to trade. But, first you need to make the analysis which oscillators make which pattern is valid enough to be used in trading.
Both MT4 and MT5 have 13 oscillators inside the trading platform which you can use. Most known oscillator is MACD which many traders use in their trading strategy.
Moving Average of Oscillator
Volumes Indicator
Volume indicators are the ones that show you certain volume on the market. Most known are accumulation and distribution where you get information about seller and buyers accumulating after which follows continuation or reversal.
Both MT4 and MT5 have 4 volume indicators.
Accumulation/Distribution
Bill Williams Indicators
Bill Williams was a trader who invented several indicators that became a standard on the trading platforms.
I will not get into too much about Bill Williams indicators, but you can read more on the Internet.
Both MT4 and MT5 have all 6 Bill Williams indicators.
Market Facilitation Index
Example Indicators
The list below shows you all examples you can find in the MT4 and MT5. MT5 has many more examples of indicators, but MT4 also has enough of them. Mostly which are used by many traders.
MT4 has 20 examples and MT5 has 56 of them. So, check them and if you want you can try all of them.
Transfer Funds Between Accounts in MT4 and MT5
The MT5 platform allows transferring money between accounts within the same trade server. Money can only be transferred from the currently connected account.
So, first connect to the account you have money on and you want to transfer money from.
Select the account in the "Navigator" window and click the right mouse button and choose "Transfer funds" from the menu.
After that you will get a new window with an option to transfer funds between accounts.
Inside MT4 you do now have an option to transfer the funds between accounts even if they are on the same server. So, the MT4 is lacking this function which could be useful sometimes.
MT4 and MT5 Chat Function
Both MT4 and MT5 have chat functions included in the platform. To access the chat function you can use metatrader shortcut ALT+M.
Here is the MT4 chat function. To access it click the "View" menu and then "Chats".
And then MT5 the same way as MT4, View -> Chats.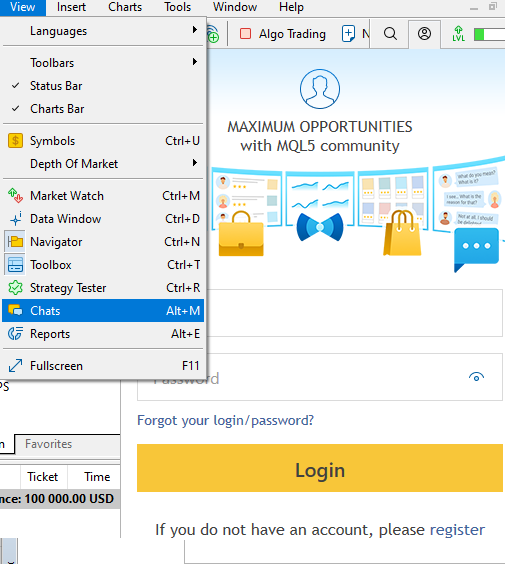 Multilingual Unicode in MT4 and MT5
Sometimes when you write a message and then you change the language, the font can be messy and unreadable.
That issue is caused by the lack of a multi language unicode encoding system. That means the MT4 system does not change the font to other languages automatically because it does not have that software in it.
MT5 does not have that issue because it supports a unicode system that automatically solves the language change in the text.
MT4 vs MT5 Strategy Tester
Strategy tester in MT4 is a light version compared to the MT5 version. That is because the MT4 is a light version of the Metatrader platform so it has less capabilities.
When you take a look into the MT4 strategy tester you have one window with all what you need. You have the option to check which expert advisor you would like to test and make that test.
When you start the strategy tester you will need a few seconds up to a few minutes to finish the test. And that depends on the time frame and amount of data you will process with your test.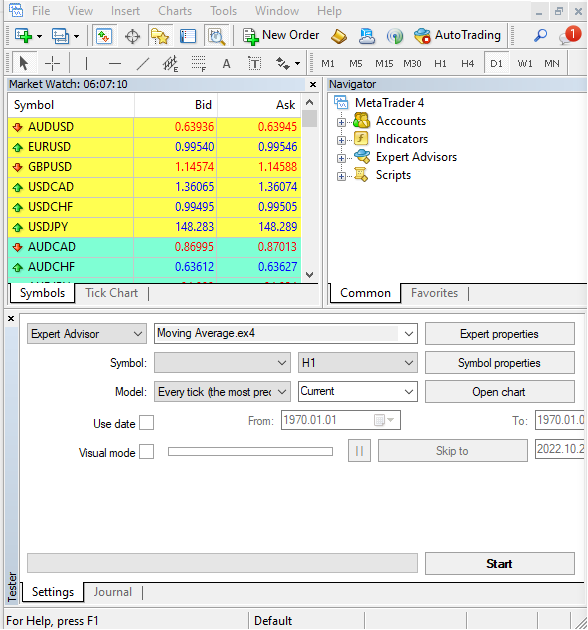 When you open an MT5 strategy tester you will see many more options.
First you need to select which kind of testing you want to do. Will you test a single strategy, will you test indicators?
MT5 has much more options and compared to MT4 this version of Metatrader, MT5, is much better. There is no negotiation about this topic.
If the MT4 would have these options this would be great. But, because of MT4 limitations in CPU power this cannot be accomplished.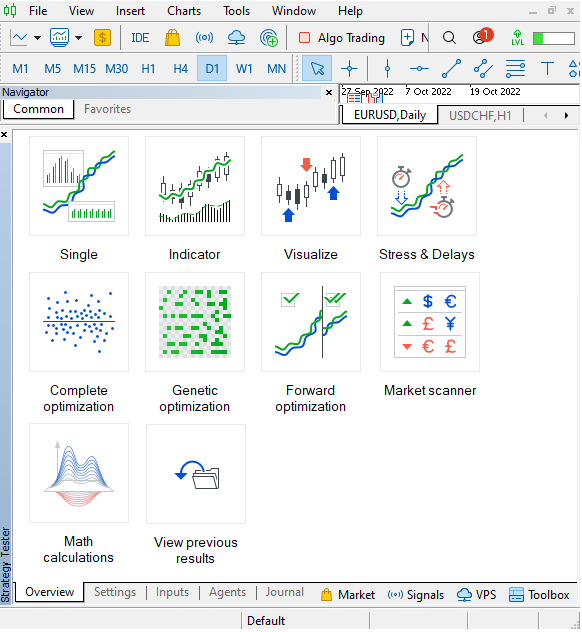 Dept of Market in MT4 vs MT5
Both MT4 and MT5 have Depth of Market, but MT4 has a light version with less options. If you check these two images you can see where the difference between MT4 and MT5 is.
Read more: What is Depth of Market in MT5
MT4 has only option to open four trading orders and to change basic trading values, like:
Stop Loss
Take Profit
Volume or Lot Size
When you check MT5 DoM you can see that there are more options above the DoM window. There you can activate more or less prices on the DoM window, you can show spread prices and you can activate the tick chart left from the DoM prices.
But, again in the end what MT4 offers you is enough to use depth of market for what is intended. It has basic functions that are enough for trading so MT4 is enough for DoM.
Times and Sales Exchange Data in MT5
Another tool that is available only in MT5 is the time and sales option you can activate only on LIVE account.
Read more: Open Live Account in MT4
If you have this option enabled then you can see if there is any rise or fall in certain sell or buy options.
If you see rising SELL orders then you can suspect that there is change in the trading activity and sell currency pairs and catch possible start of the new trend.
Source: https://www.metaquotes.net/en/metatrader5/news/4744
MT4 and MT5 Pending Orders Difference
MT4 and MT5 have differences in pending order types. MT4 has 2 pending orders less than MT5.
Main pending orders in trading are:
Sell Stop
Sell Limit
Buy Stop
Buy Limit
These four pending orders are visible in the MT4 window for new orders.
Now when you check MT5 you will see two more pending orders:
Sell Stop
Sell Limit
Buy Stop
Buy Limit
Buy Stop Limit
Sell Stop Limit
Buy Stop Limit and Sell Stop Limit are two pending orders that do not exist in the MT4.
In trading Forex you will need only four pending orders that are available in MT4 so MT5 has a slight advantage offering two more options, but you can live without them.
Anyway, if you think they can give you more advantage in trading then feel free to use MT5 in trading.
MT4 vs MT5 Bit Version
MT4 is the 32 bit version and MT5 is 64 bit version.
The 32 bit version means the processor has less power to process requests the Metatrader wants to process. This is followed by a slower metatrader platform and sometimes can crash.
The 64 bit version allows much more options to run simultaneously compared to the 32 bit version. That is why MT5 is much faster than MT4 and has many more options.
If you have checked a few lines above you have seen that the MT4 strategy tester has less options compared to MT5. And the main reason is the 32/64 bit version. Because the 32 bit version cannot process complex operations as fast as the 64 bit version.
So, MT5 has much more new options, new design, and when you start as a strategy tester you can run a few tests at the same time.
The 64 bit processor type gives MT5 more process power and does not crush as MT4 or does not get stuck where you need to restart application.
To give you a rough comparison between the 32-bit MT4 vs 64-bit MT5 version you can see the number of operations per second on both versions.
In some cases the speed of the 64-bit version was two times faster than the 32-bit version.
Source: https://forums.passmark.com/performancetest/3383-64bit-vs-32bit-benchmarks-integer-maths-pt8
Is MT5 Faster Than MT4
To give you a rough comparison between the 32-bit MT4 vs 64-bit MT5 version you can see the number of operations per second on both versions.
In some cases the speed of the 64-bit version was two times faster than the 32-bit version.
MT5 is faster than MT4 because it has fater processor and can process more data than MT4 platform.
Source: https://forums.passmark.com/performancetest/3383-64bit-vs-32bit-benchmarks-integer-maths-pt8
MT4 and MT5 Programing Language
MT4 uses MQL4 programming language which syntax is easy to understand and to use. If you know how to program software then you will easily understand how to make indicators or expert advisors for MT4.
MT5 uses MQL5 object oriented programming language C++ which is not so easy to learn if you are not in the software area.
MT4 vs MT5 Report
Now, when it comes to the report inside MT4 or MT5, MT5 has more advantages. And the main advantage is that you can see the report inside the window where the charts are.
Here is the standard detail report you have inside MT4 and MT5. And on it you have a simple chart that shows you the account history.
Read more: Account History in MT4
Inside MT5 you have one more option and that is View -> Report. This is the report you can view inside the main window where the chart is. You get much more data and charts about the account history.
This comes in handy if you want to see a detailed report inside MT5 and with mode details which you cannot get easily from the detailed report.
When it comes to the report MT5 has a much more detailed report and with much better visual data which is very useful.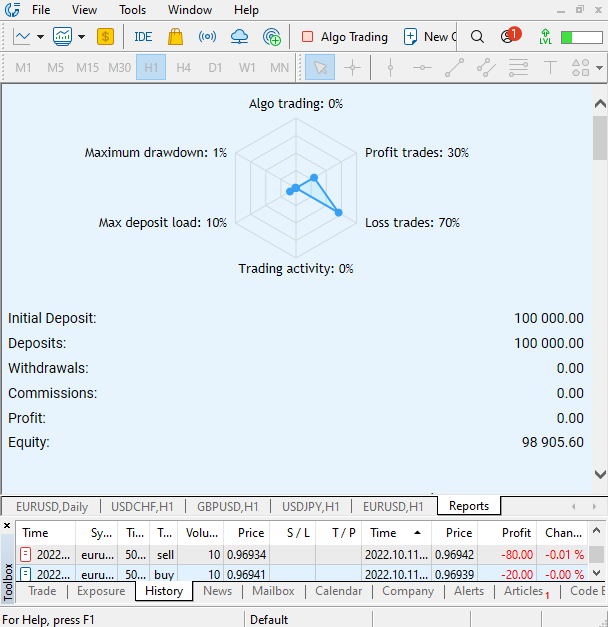 MT4 and MT5 Types of Order Execution
There is a slight difference between MT4 and MT5 order execution types.
MT5 has one more than MT4, but if you make a conclusion that one on MT5 is worth changing the trading platform I would say it is not.
MT4 types of execution orders:
Instant Execution
Request execution
Market execution
MT5 types of execution orders:
Instant execution
Request execution
Market execution
Exchange execution
Exchange execution that makes the difference between MT4 and MT5 represents the execution where the orders are sent to an external exchange. Then the trade is executed at the price the markets offer at that moment on the exchange.
Which is Better for Beginners MT4 or MT5
For beginners in trading MT4 is the best option because you get all what you need in a simple way rather than using MT5 which has more features that can be slightly hard to understand at the start of trading.
MT4 is a reliable and robust platform and when you start using it as a beginner you will have an "old" design which will make your trading easier. That means you will understand all symbols and objects because you are familiar with the shape of them.
So, using MT4 at the start of trading you will have a much better understanding of how to use MT4 as a trading platform and it will be easier to trade.
But, do not think that MT5 is hard to understand. No, MT5 is similar to MT4 and almost the same in some parts so you can start using MT5 at the start, if you want.
My final decision is that Metatrader 4 is better than MT5.
Can I Use MT4 Account in MT5
You cannot use an MT4 account in the MT5 trading platform because it is not supported.
Account created for MT4 uses another server than the account created for MT5. So you will not be able to connect with an MT4 account on the MT5 platform.
It works the same in the opposite case.
If you have an MT5 account you cannot use it on MT4. Account created for the MT5 platform uses another server than the account created in MT4.
Conclusion
As a final conclusion I can make is that the MT4 has some of the features that could be implemented and would be nice to have as on MT5.
But, for the main thing and that is Trading, the mT4 is enough and has all that is needed.
Many traders are still using MT4, and MT4 is the preferable trading platform, so as a final vote I am giving to MT4.
If you want to start trading then download MT4 on your PC or mobile.
Read more: Download MT4 on PC or Smartphone
Resources
https://www.metatrader5.com/en/trading-platform/comparison-mt5-mt4
https://www.metaquotes.net/en/metatrader5/news/4744