MT4 stuck waiting for update is a common error on MT4 when Metatrader 4 does not have connection with the broker server due to bad connection or incorrect Metatrader login details.
Read more: Metatrader Login Problem
It is an error that prevents refreshing live quotes on the MT4 where you cannot see the price of the currency pair.
You can solve that by checking internet connection or Metatrader login details and fixing them. And that is by entering correct login details for internet connection and account.
If you do not solve the waiting for update error you will not be able to use charts and trade the currency pairs. You will have blank charts or old charts without live quotes.
Why Does My MetaTrader 4 Say Waiting for Update?
There are several possible reasons why you see MT4 error saying Waiting for Update. The main reason behind the error is not receiving fresh data for the currency pair on the chart.
The cause of the error can be on your side and can be on your broker side. Here you will find what is causing the error and how to fix waiting for an update error.
Possible cause of the error Waiting for Update:
Internet connection
Account login details
Wrong symbols
PC resources over consumed
MT4 old version
Let's go through each of the possible causes and see how to fix them.
How Do I Fix MT4 Waiting for Update?
You could fix MT4 waiting for an update error by having proper internet connection, having correct login details, use available currency pairs or symbols, use light versions of your EA's and use newest MT4 version.
MT4 Offline Chart Not Updating
If you lose your internet connection during trading on the MT4 you can receive waiting for update error. Connection loss can be because of losing a signal if you are on Wi-Fi or if the internet connection is down on your side or on your Internet provider side.
If this happens you should try to reconnect to the Internet so the MT4 can establish internet connection.
Fix MT4 Offline Chart Not Updating
To verify that you have lost your internet connection you should check in the bottom right corner of MT4 do you have red bars. If you see only red bars and if you hoover with your mouse over those red bars you will see connection status.
Red bars indicate that you do not have an internet connection and your charts will not update with the new price. And the lost internet connection will be the cause of the waiting for update error.
To fix the MT4 offline chart not updating you need to check your internet connection. Maybe you have a bad WiFi signal or your fixed landline cable is not connected.
If you have checked WiFi and landline cable then you should contact your Internet provider because maybe they have issues with internet service. If that is the case you should wait until they solve the issue.
Invalid Account MT4
If you try to login to a trading account with wrong account login details you will have an error with currency pair price refreshing.
If you enter the wrong account ID, account password or broker server you will not connect to the broker server with your account. That will cause your charts not updating and you will not see the live prices for certain currency pairs.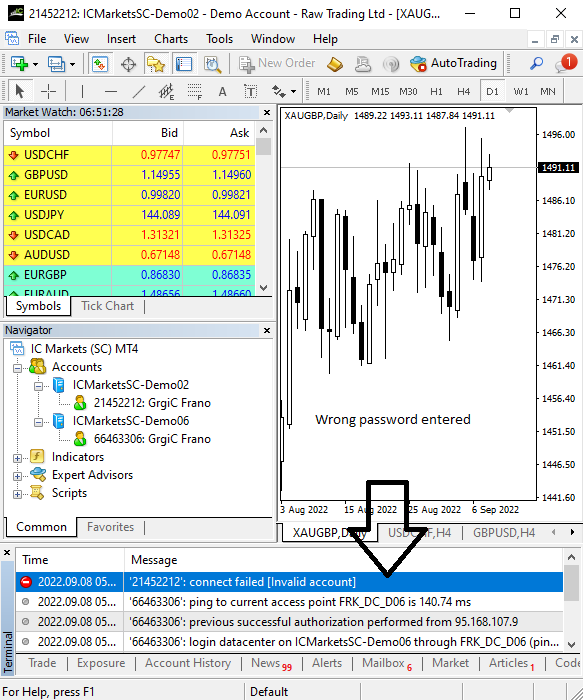 After you enter incorrect account login details you will receive a message inside Journal tab that the connection has failed.
connect failed [Invalid account]
With connection failed you will see a message saying Invalid account because you have entered incorrect account login details and MT4 could not connect.
MT4 will not tell you that you have entered the wrong account ID or password or server. This is something you need to find out for yourself is the account ID or password or broker server wrong.
How to Fix Invalid Account in MT4
First and the most correct way to fix invalid account is to check your account details like account ID, password and broker server.
If you are sure that you have entered the correct account ID and password it can happen that the broker server he is hosting your account on has changed and you need a new one.
Simply contact your broker and explain to him what was the case and could they help you solve the error.
Why is My MetaTrader 4 Frozen?
If you are using too many indicators and EA's at the same time or you are using one EA that is calculating lots of combinations then MT4 could be stuck waiting for an update.
EA's is taking a lot of computer resources like memory and CPU speed that can affect MT4 running smoothly. If the problem appears you could get MT4 frozen and able to do anything.
When running EA or if you are programming EA and testing be careful that you do not have too complex code that will take all PC resources.
How to Fix MT4 Frozen?
If that happens you can press CTRL+ALT+DELETE buttons on your keyboard and on the menu that appears select "Task Manager". Second way is to type in the search field Task Manager and open the application.
After that you will have a new window for Task Manager where you can see all your applications that are open.
In the rows where all applications are located find Metatrader 4 or 5 and check what is current resource usage.
In the columns where CPU and Memory are checked is the usage in dark color and if the CPU and memory percentage % are too high, close to 90 and 100%. If they are more than 90% and you see that MT4 is taking the most resources then you will know that MT4 is consuming too much of your PC resources.
You should restart MT4 and try to modify the indicator or EA you are using to unfreeze the MT4.
Try Other Symbols
If you position yourself in the Market Watch window where all currency pairs are located you will see that some of them are greyed.
That means that currency pair is not available for you on the MT4 platform. The reason behind the broker you are using is because that broker is not allowing you to trade that currency pair.
If you want to trade that currency pair you need to find another broker.
But, if you pick that currency pair or symbol in the Market Watch window and drag and drop on the chart on the right side you will see the Waiting for Update error. That means you are requesting the price of that currency pair from your broker server, but he is not sending you any information.
So, the chart cannot show anything because there is not data coming from the server.
Sadly, there is no easy solution to solve waiting for update errors on unavailable symbols or currency pairs.
But, there is a solution and that is to find another broker that has that currency pair or symbols available for trading. If the currency pair or symbol is available he will not be greyed out, but he will be black colored as other symbols you see in the Market Watch window under Symbol.
Pick a Symbol in "Market Watch" Window and Drag it on the Chart
Sometimes it can happen that you have a chart open for a certain symbol and suddenly you lose internet connection, but the internet connection returns back.
That small glitch can cause the MT4 to be stuck and the chart not updating. If that happens you will not see the price of a currency pair refreshing.
Simple solution in that case is to pick that currency pair in the Market Watch window and simply drag and drop it on the chart.
This move will start again refreshing the data on the chart where you can continue analysing the pair.
MT4 Old Version Waiting for Update
If you do not update your MT4 manually or automatically you will have an MT4 version that will not be supported from your broker.
Read more: Update MT4 Manually
The best case is to allow MT4 to update automatically so you are on the latest version without bugs and errors.
I have installed the old MT4 version so you can see how it looks when you try to use the old version.
Read more: Download MT4 Free Old Version
You immediately get black screen on the chart window saying waiting for an update.
If you try to login with your current account details you will not get new live quotes from your broker server.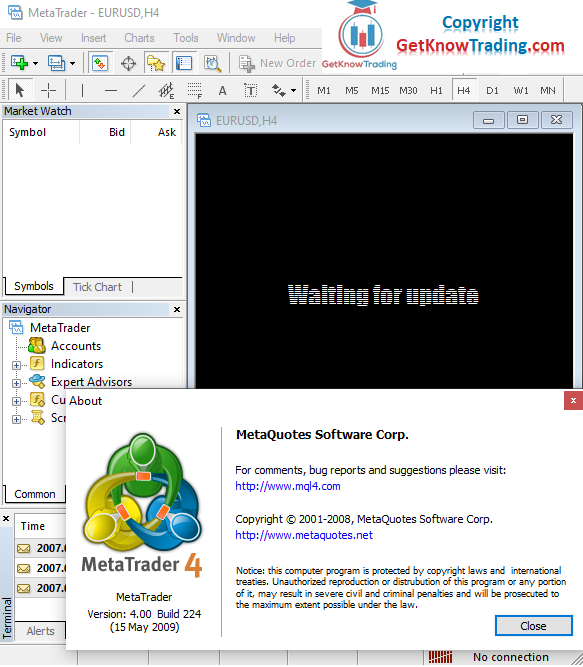 How to Fix MT4 Old Version Waiting for Update Error
The best solution is to update to the latest version where you will have all bugs and errors solved and you will get new live quotes from your broker.
It is important to have the latest version on your PC, but sometimes you need old MT4 with old indicators and EA. In that case you should refresh your indicator and EA on the new version that is supported on the latest MT4 version or you can continue using the old version until your broker supports it.
If the broker stops supporting that version you should decide to move to a new version because you will start getting errors waiting for an update.
Read more: MT4 old Version Error
Conclusion
Having an MT4 Waiting for Update error is a common MT4 error which you can fix easily.
Read more: Common Error On MT4
There are several possible reasons, but the most common is the internet connection where MT4 cannot get fresh data from the server.
Simply check Internet connection or restart MT4 to start an application where the small glitch could be solved on itself.
This article is part of a tutorial about Metatrader 4. If you want to continue reading more articles go to Forex Trading Platform tutorial.